The Specialized Industry for Hot Water Heating Systems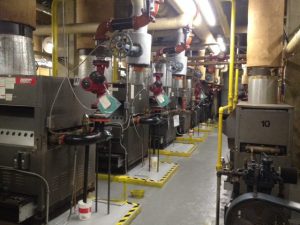 – Hydronic heating changes from decade to decade. With changes in new technologies and safety codes & regulations, hydronic heating is a specialized industry requiring the skill set needed to understand the fundamentals, technology, and diagnostics.
Over the years we have helped shape many areas in the industry, and have seen many changes.
Through the Decades of Hydronic Heating
Between the years 2000 and 2006, we spent most of our time converting boiler systems to multi-boiler systems. This dramatically increased operating efficiency at a time when there were very few options for home and building owners.
By the end of 2006/2007, we were able to get boiler manufactures on board to provide home & building owners additional efficiency options such as multi boiler packages, multi-stage boilers, higher efficient boilers and better boiler controls. With our assistance, and other industry leaders, the new Safety Code for hydronic heating installations was born.
Between the years of 2006 and 2010, a lot of our time was switched to new home floor heating & snowmelt systems.
This was at a time, when radiant heating systems had a poor reputation for not working, poor quality installations, and very high operating costs. Our floor heating installations used high quality materials and proved to be accurate and high efficient. By the end of 2010, we had proved to our industry that floor heating systems in homes were viable and proved to be healthy environments. More consumers started wanting floor heating and snowmelt in their homes.
What We Are Doing Now
For the past decade, we have been assisting many homeowners and building owners in upgrading their heating systems, altering systems to more energy efficient options, adding additional home comfort options, and repairing hydronic systems.
RBA Mechanical is your Edmonton & Sherwood Park specialists for hydronic heating systems.