Stamping out the Myths of Hydronic Snow Melt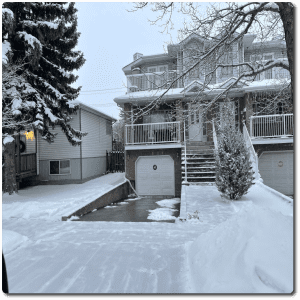 Over the years, hydronic snow melt systems have experienced a bad rap.
Poor quality materials, cheap installations, and the wrong equipment used, have all been causes of this bad rap.
So here's 6 basic facts to get away from all the myths.
1. Hydronic Snow Melt is Only for Snow
All hydronic snow melt systems heat the outdoor surface and melts both the snow & ice.

When it snows, the equipment fires up and melts the snow. But it works great for ice melting too! When you have a build up of ice, there is no need for salt, ice scrapers and chippers. Your system will fire up and start melting ice right away. This can be done automatically or manually.

Either way, your outdoor surface is always safe and dry.
2. Hydronic Snow Melt Systems Cost Too Much to Install
Snow & Ice melt systems are an investment. A well installed snow melt system is a luxury that increases the value of your property and can keep your slab in good condition for years to come.

At RBA Mechanical, we have many different plans available for most budgets, including DIY options and "stage" work.
3. Hydronic Snow Melt Costs Way Too Much to Operate
Hydronic snow melt is high efficient.
If your hydronic snow & ice melt system is costing way too much to operate, then it is not installed correctly.

A correctly installed hydronic snow & ice melt system is imbedded in the slab (concrete or pavement), and the tubing is installed tightly, in 6″ to 12″ centers. The boiler system is high efficient, and for optimum efficiency, a sensor with automatic control is added.

4. My Snow Melt System Doesn't Work
If your snow & ice melt system does not work, then it was not installed correctly.

It is very important to have a proper design completed for your outdoor heated slab. It is the design that gives us the tube layout pattern required in order to properly heat the slab and melt snow & ice.

You're boiler system must be sized and setup correctly to operate a hydronic snow & ice melt system. As well, the snow melt control must be operating correctly. All these factors will effect the operation of your snow & ice melt system.
5. I Have a Shovel to Remove Snow
Yes you have a shovel and an ice pick. But why risk your's and the public's health and safety, when you can melt snow & ice automatically?
Hydronic snow melting is environment friendly, whereas salt can contaminate your yards and gardens.

A well installed snow melt system by RBA Mechanical, does all the work for you, and can increase the life of your concrete, aggregate, or asphalt.

Imagine… waking up to a cold morning with no shoveling ahead of you.
6. I Can't Have Hydronic Snow Melt System
Any residential home or commercial building can have the safety and luxury of a hydronic snow & ice melt system.

Whether you have a small sidewalk or a large ramp, you can experience automatic snow melting. You can have snow melting on any outdoor surface you choose.